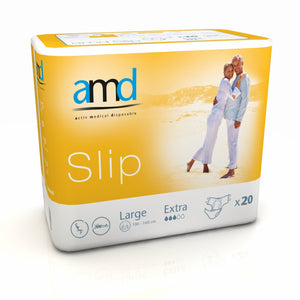 Adult Diapers AMD - Slip Extra
AMD diapers are made with a soft, breathable outer fabric that provides comfort and discretion. They have an absorbent core that directs urine inwards, keeping the skin perfectly dry.
Odor neutralization system that prevents the formation of ammonia and unpleasant odors, keeping the skin's pH at 5.5. Moisture indicator, a quick visual system to help monitor the patient's diaper. Elastic waistband (back and front) adaptable to every body shape and movement.
AMD diapers are plastic-free, which reduces the possibility of skin irritation.
Description:
Pack of 20 diapers

Waist: 110 – 160 cm (Size L)
Absorbency capacity: 2550ml
Breathable - Keeping your skin healthy
Odor Control - Preventing the formation of odors, protecting the skin's PH
Cotton Sensation - Offering comfort and discretion, silent
Softness - Guaranteed comfort and well-being. Hypoallergenic non-woven fabric
Anatomical Shape - Allowing freedom and autonomy
Hygienic - Ensuring discretion and complete safety
Innovative Technology - Providing fast absorption. Preventing the feeling of wet
No Latex - Avoiding the risk of allergic reactions. Lycra Elastics