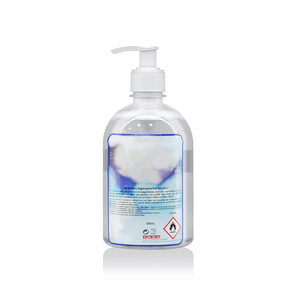 IDEAL FOR
Product specifically formulated for disinfection and hand hygiene in hospital, food, among others .
Description
Alcoholic gel (>70% (V/V)), fragrance-free and quick-drying, intended for disinfection and hand hygiene. Product used in HACCP Plan. Broad spectrum of action (bactericidal, fungicidal and virucidal).
Characteristics
Alcohol-based skin disinfectant highly effective against transient microorganisms on the skin. Product specifically formulated for disinfection and hand hygiene in hospital and food facilities, among others. Contains emollient and humectant substances to maintain the skin's natural oiliness.
Product notified to the DGS (General Directorate of Health)
Type of product according to Annex V of Regulation (EU) No. 528/2012, of 22 May, "Types of Biocidal products and their description":
Group 1 – Disinfectants:
Product type 1: "Human hygiene".

Application Fields
It is strongly recommended to use the product in all cases where the hands may be transmitting agents of pathogenic diseases.
Employment Mode
Apply the pure product (1 to 3ml) in the palms of the hands and rub for 30 seconds, until they are completely dry. Do not rinse with water.
When diluted, the product loses characteristics, thus canceling its disinfection power.
Specifications
Aspect: Colorless Clear Viscous Liquid
pH: 6.0 ± 0.5
Odor: Alcoholic
Precautions
Flammable liquid and vapors. Do not ingest. Keep out of the reach of children. In case of accident or if you feel unwell, seek medical advice immediately (show the label if possible), or contact the Poison Information Center (800 250 250).
Storage
Store in the original package, tightly closed, protected from sunlight and in a cool place.
Product shelf life: 2 years.