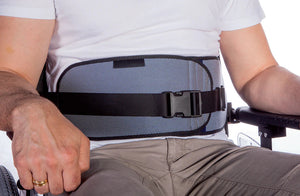 Abdominal Belt for Wheelchair
Support belt with adjustable strap system, very comfortable and easy to use. Convenient to use thanks to its quick and easy installation. Orthopedic belt suitable for daily use in any seat or wheelchair. Anti-fall protection prevents slipping and the possibility of falling.
Recommended for people with reduced mobility or patients with instability. Provides user stability while sitting. A belt adaptable to the user.
Stabilizing belt adaptable to the patient's shape and size, ensuring stability without pinching the torso, providing comfort and protection.
Advantages of the Abdominal Belt
ABDOMINAL SUPPORT BELT: Made with semi-rigid and breathable materials, designed to increase comfort and make life easier for users with reduced mobility.
RESISTANT DESIGN: Posture belt made of durable high quality polyamide, foam and polyester, repels dirt and bad odors. Easy to clean.
INCREASED SECURITY: System for attaching to the wheelchair, very easy to install. It has adjustment straps that cross at the back and are adjusted to the desired size.
SEAT AND WHEELCHAIR PROTECTION: Eliminate the risk of falls and lateral displacement. It is fixed at the back and secured with two sliding buckles to prevent slipping.
SATISFACTION GUARANTEE: We are always at your disposal to offer you an excellent professional service before and after your purchase.
Features of the Abdominal Belt
Measure adaptable to the contour
Straps with security clasp
Machine wash up to 30º
Color: navy blue
Quality materials
Maximum protection guaranteed
Benefits of the Anti-fall Belt
Suitable for daily use
For all types of seats
Allows regulation
Composed of highly durable materials
More security and peace of mind