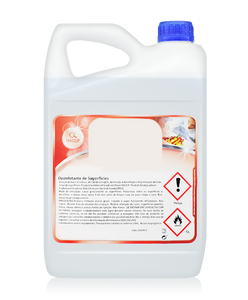 IDEAL FOR
Hospital facilities, hotels, cafeterias, factories, offices, schools, etc.
Description
Alcoholic solution, low in quaternary ammonium, quick drying, suitable for disinfecting and sanitizing surfaces. Product used in HACCP Plan.
Characteristics
Due to its formulation, this product is indicated as an effective disinfectant and sanitizing agent on various types of surfaces.
The surfactants contained in this mixture meet the biodegradability criteria stipulated in Regulation (EC) No. 648/2004 on detergents.
Product notified to the DGS (General Directorate of Health)
Type of product according to Annex V of Regulation (EU) No. 528/2012, of 22 May, "Types of Biocidal products and their description":
Group 1 – Disinfectants:
Type of product 2: "Disinfectants and algaecides not intended for direct application to humans or animals".
Application Fields
Product specifically formulated for the disinfection and cleaning of all types of surfaces in hospitals, hotels, cafeterias, factories, offices, schools, etc., where it is It is essential to ensure good hygiene and health conditions.
The product must be applied where there is a possibility of cross-contamination by the contact of several people, such as door handles, handrails, keyboards, telephones, desk tops, counters, etc.