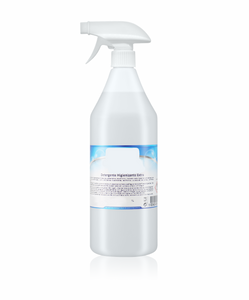 IDEAL FOR
Hospital environments, homes, industry, schools, hotels, restaurants, offices, among others.
Description
Powerful quaternary ammonium-based disinfectant and bactericidal product with a broad spectrum of action, suitable for disinfecting and sanitizing environments where there is a risk of contamination.
Characteristics
Disinfectant and bactericidal detergent, without perfumes and without dyes. Product of cationic origin, based on quaternary ammonium as a disinfectant and bactericidal agent, with a broad spectrum of action. The product is non-toxic and non-irritating to the skin when handled. Available as a spray for areas where sanitation is critical.
The surfactants contained in this mixture meet the biodegradability criteria stipulated in Regulation (EC) nº648/2004 on detergents.
Product notified to the DGS (General Directorate of Health)
Type of product according to Annex V of Regulation (EU) No. 528/2012, of 22 May, "Types of Biocidal products and their description":
Group 1 – Disinfectants:
Type of product 2: "Disinfectants and algaecides not intended for direct application to humans or animals".
Application Fields
Product specially developed to be used where an energetic action of disinfection and cleaning of surfaces is required:
– Surfaces and frequently touched objects: door handles, chairs, keyboards, handrails, switches, work areas, counters, among others.
If in doubt, test the product in an area/ less visible area to ensure compatibility with the surface/object to be cleaned.