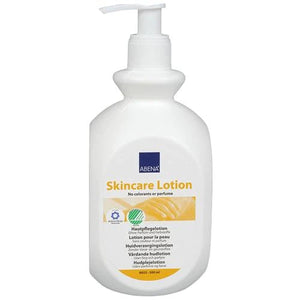 Abena Skincare Lotion 500ml
Abena Skincare Lotion is a moisturizing lotion for hands, face and body indicated for daily skin hydration.
Characteristics
Its formulation contains vitamins A and E, which support the skin's natural functions, protecting it.
The lotion also contains special ingredients that protect the skin against irritation, making it suitable for cracked skin or people with eczema and psoriasis.
Its pH 5-6 respects the skin's natural pH.
Fast absorption.
No perfume.
Use advice
Apply and massage gently. Use only the necessary amount, massage until the cream is completely absorbed.
Free shipping on orders over €50 (inc. VAT)
For Masks and Covid-19 Tests shipping is free on orders over €25 (inc. VAT)