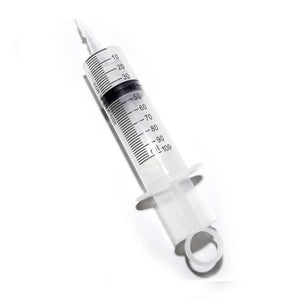 100 ml Food Syringe - Pack 25 Units
This accessory helps to feed the sick or bedridden who are not physically able to feed themselves or who cannot, for some reason, fully open their mouth.
Characteristics
Pack 25 Units
Sterile, single-use, non-toxic, needle-free syringes.
Three layer contact rubber piston, and braking device at the end of the piston stroke to prevent accidental exit during suction.
The syringe structure (cylinder and piston) is highly transparent and has a highly legible graduated scale.
Suitable for people who are feeding through a nasogastric or intestinal tube or for sucking food directly from the syringe.