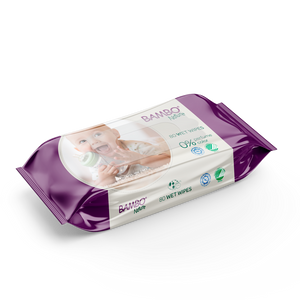 Wet Wipes Bambo Nature Unscented
Bambo Nature Wipes are a must-have for every diaper change, in diaper bags, on the go, on picnics, for overnight stays – wherever you and your baby are together. Our skin-friendly, moisturizing cleansing wipes are made from soft, sustainable materials and can be used all over the body. The wipes are dermatologically tested and do not contain perfumes or dyes. The wipes are vegan and contain no animal-derived ingredients, only plant-derived ingredients.
Certified to Nordic Swan Ecolabel and Asthma Allergy Nordic label standards – the sustainable and safe choice for your baby and the environment.
Recommended use: For external use only. Avoid contact with eyes.
Description:
Pack of 80 wipes
Soft and breathable
Skin-friendly (no perfumes or dyes)
Packaging with plastic reduction in the lid and liner
Perfect for travel