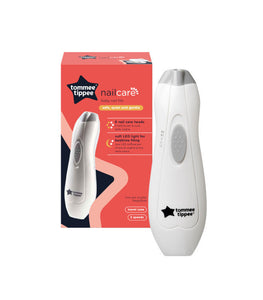 Tommee Tippee - Electric Nail File
Ref: 423772
With Tommee Tippee's Electric Nail File, filing your baby's nails will be a quick, simple and safe task. It works with batteries and includes six files so that both babies and adults can use it.
Easy, fast and secure
Designed for babies' delicate and fine nails, it allows to file toenails and fingernails quickly, safely and simply.

Both the speed and the rotation of the file are controlled with a button. So you can file, polish and polish your nails gently, in both directions, at low or high speed.
For the whole family
It includes three files for the different stages of nail growth for babies and young children (ultra-fine, fine and medium), and three multipurpose files designed for adults (shaping, polishing and polishing).
LED light and silent motor
Thanks to its silent motor and a soft LED light, you can file baby's nails even when he's sleeping, without waking him up.

It works with batteries (not included) and, when the battery is low, you will notice that the file slows down and even stops.
Perfect for travel
Its travel pouch is perfect for storing your electric file when you're not using it or when traveling away from home.